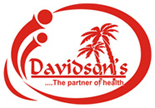 Davidson's Pharmaceuticals, a prominent nutritional supplements house, distinguished in the field of manufacturing Proprietary Dietary Supplements, Herbal Supplements, in the form of Capsules, Syrup, Drops & powder has its base in Gurgaon (Haryana), India. Established in the year 2010.

Davidson's Pharmaceuticals has pioneered the practices of so many modern techniques in many of its formulations and implemented innovative ideas. Innovation is a culture here and governs every strategies of the company.

We are supported by an efficient team of experts, which handles the manufacturing operations at each and every level. Ayurvedic products & Herbal Dietary supplements are formulated under the guidance of Mr. Avinash Arora (An Ayurved Ratna) who is having an experience of 38 years in Ayurvedic & herbal medicines.

Davidson's Pharmaceuticals's core strength lies in its vibrant team of employees and its continuous effort to bring out the best and become the best
Mission & Vision
Mission : To facilitate world class products and deliver excellence in each of our efforts through innovation using cutting edge technology and methodology.
Values : Excellence : We deliver excellence in our products, partnership and exuberate excellence in everything we do.
Integrity : We possess and adhere to high moral principles, professional ethics and confidentiality.

Dedication : We have extremely dedicated work force contributing endlessly to the growth of the company.
Vision : To become a globally respected Pharmaceutical entity and create values for its Stake holders and Employees.
Our Quality
We maintain the highest standards of quality in every sphere of our activities which explains our strict commitment towards quality. Only quality approved natural extracts, herbs and other ingredients are utilized in the process by our authentic vendors of the market. Every product is formulated under the supervision of experts, in a clean and hygienic environment. Further, these are quality tested for their effectiveness, composition and purity by quality auditors before their final packaging.
Client Satisfaction
We are a quality driven organization that is working with the sole motto of providing the best quality Products at affordable prices for mass consumption. To achieve this, our vendors follow stringent quality management system at all levels of operations. In addition to this, they strictly adhere to specifications prescribed by various medicinal institutes.

Following factors have helped us to earned a substantial market base in our short journey:
   • Effective and chemical free products
• Ethical business practices
• Client centric approaches
• Timely delivery schedules
Management
Managing Partners:
• Mr. Avinash Arora
• Mr. Deepak Arora
• Dr. Amit Arora